Jarboe Mechanical HVAC LLC
Southern MD Heating and Cooling HVAC Ventilation Service and Replacement
Service Areas: Calvert County • Charles County • St Marys County
• Anne Arundel County • Prince Georges County
About Us
Jarboe Mechanical LLC is a licensed and insured HVACR Contractor with over 30 years of experience in servicing and installing heating and cooling equipment. We are a union contractor with personnel trained and supplied by the Steamfitters Local Union #602.
Our Southern Maryland HVAC heating and air conditioning heat pump indoor air comfort advisors and technicians are familiar with most HVAC systems. We also offer a variety of exceptional name brands for your heating and cooling needs.
Our technicians provide repair, maintenance and installation services for a variety of heating and cooling HVAC equipment, including heat pumps, data centers, process piping, refrigeration, package units, steam, oil and gas boilers, cooling towers, chillers, pumps, controls, furnaces, ductless split systems, water heaters, rooftop units, air handling units and all other commercial systems. We also provide air duct cleaning and dryer vent cleaning.
Our air comfort advisors are well-informed in energy-efficient technologies and can consult with you on exactly how to maximize comfort in your home or business while saving energy and money in the District of Columbia, Northern Virginia and Maryland areas of: Anne Arundel, Prince Georges, Howard, Montgomery and Queen Anne's and Southern MD's Calvert County, Charles County and St. Marys County.
We serve residential and commercial customers in Annapolis, Bowie, Chesapeake Beach, Crofton, Dunkirk, La Plata, Prince Frederick, Solomons Island, Upper Marlboro, and Waldorf.
Why Choose Us
30 Years HVAC Commercial & Residential Installation & Service Experience
Locally Owned & Operated
Licensed & Insured
HVACR Contractor
Union Contractor with Personnel Trained & Supplied By the Steamfitters Local Union #602
Offer Preventative Maintenance Agreements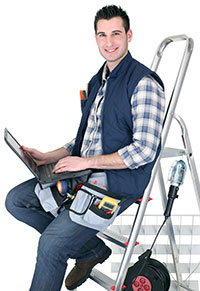 Commercial HVAC Services
Steam Boilers
Hot Water Boilers
Gas Boilers
Oil Boilers
Cooling Towers
Package Rooftop Units
Residential HVAC Services
Gas Furnaces
Oil Furnaces
Heat Pumps
Humidifiers
Ductless Systems
Fans
HVAC Air Duct Cleaning
Heating & Air Duct Cleaning
Dryer Vent Cleaning
Our HVAC Technicians Heating and Air Conditioning HVAC Experts Providing Comfort and Savings
Our heating and air conditioning HVAC comfort advisors receive widespread specialty and onsite training to enable them to recommend the best HVAC system to fit your home's specific energy needs. Constant training keeps them up to date on current rebates, tax benefits and cost-saving technologies for homeowners.
Customer safety is our main concern
For your safety, all of our specialists are licensed with DC, MD and VA. Our factory-certified HVAC repair specialists are intensively attentive to the ever changing heating and air conditioning technologies, guaranteeing that repairs and maintenance are performed correctly and to code the first time.